Off-the-Beaten-Path Destinations for Meditation Lovers
The go-to resource for planning your meditation retreats. Find all you need to know about the top destinations and how to escape from your busy lifestyle with the art of meditation.
Discover Meditation Retreats now
Peace, silence, and nothing but nature all around you. How great does that sound for a great holiday?
Meditation vacations are all about you getting the calm you need back into your life. But where are the best places to go? India or Southeast Asia are very famous to do meditation and while there are excellent retreats around the area, they can often become too crowded. And with so many other unique places around the world that are perfect for a meditation holiday, why not try someplace new?
Check out these off-the-beaten-path destinations to have the most mindful time of your life!
1. Cape Town, South Africa
With the water on one side, the mountains on another, and a lush forest in between, Cape Town is the perfect combination of city and nature – ideal for a meditation retreat. Head to different classes throughout the city to find anything you want to learn about your meditation practice. From Qi Gong, a holistic type of meditation, to cooking classes, to yoga, you'll surely enrich your meditation trip.
If you're looking for a wellness retreat, there are dozens of cozy spots sprinkled around the Cape Town area.
2. Big Sur, California
This famous stretch of California's coast is the perfect spot for you to relax and get some peace of mind. Walk along the paths to clear your head or rest in any of the parks that sit above the water of the Pacific Ocean.
Big Sur stretches for 90 miles on California's coast with the deep blue Pacific Ocean on one side and the Saint Lucia mountains looming above the other. Hike up to the Julia Pfeiffer Burns State Park or take a walk through Limekiln State Park. In addition, you should check out the coasts at Sand Dollar Beach or Pfeiffer Beach too.
3. Grumeti Reserves, Tanzania
We bet you didn't think "wildlife reserve" and "meditation" could fit in the same sentence; well, Grumeti Reserves in Tanzania combines just those two. Nothing says peace quite like waking up fully immersed in nature each day. Sit back and watch the lions, gazelles, hyenas, and others in their natural habitats.
What is it they say about truly being able to find yourself while immersed in nature? If you're looking to see the earth's real beauty up close and personal, Tanzania is the perfect destination for you.
4. Halibut Cove, Alaska
A still, peaceful lake, a thick pine tree forest, the distant snow-capped mountains... How can you not be at peace just by listening to this description?
In between the extreme ice roads and the untamed wildlife of Alaska sits a little slice of heaven in Halibut Cove. Spend your days sitting out by the water's edge relaxing as you take in the beauty of nature. Depending on the season, you can see whales, bald eagles, puffins, seals, sea lions, otters, moose, and bears.
You could also take some yoga classes or treat yourself to a spa day. To eat, try locally caught or grown food.
5. Half Moon Caye, Belize
Step onto your own little island off the coast of Belize. Half Moon Caye is so hidden that it's almost like staying on your own private island. Housing on this beach haven consists of cabins or tents that sit just a stone's throw from the water's edge on top of the soft golden sand. Eat in open-air pavilions, go for a swim in the Blue Hole (a giant submarine sinkhole off the coast), sit back and relax on the sand, or wake up early for yoga on the beach at sunrise.
Half Moon Caye surrounds you by unique nature, allowing you to step back from the world, disconnect, and relax.
6. Patagonia Park, Chile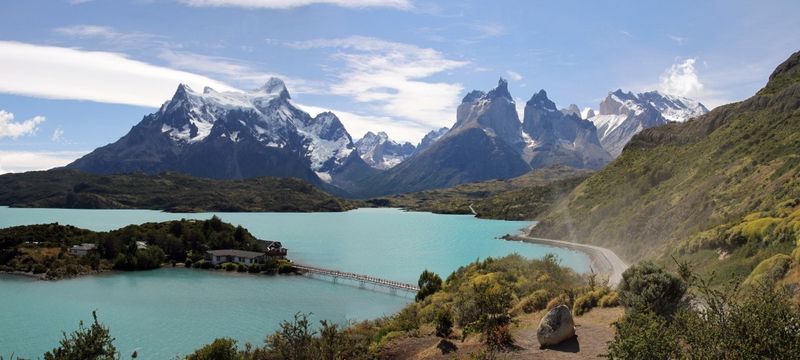 Head down to the end of the world if you want to clear your head. Chile's southernmost region, Patagonia, is the perfect spot for you to surround yourself with the country's natural wonders while having a peaceful and isolated vacation.
Stay in a nearby stone lodge to enjoy the 200-acre park's features, which include fishing, fly-fishing, kayaking, hiking, and of course all the tranquility and serenity you need for some quiet meditation time. The park, located in Chile's Valle Chacabuco, is untouched save for the lodge and a few other structures, giving you the isolation and seclusion you need to get away from the rest of the world.
We recommend coming here in Chile's southern months -- roughly from October through April, to avoid Patagonia's cold.
---
Are you already an experienced meditation practitioner? Learn even more on an advanced meditation retreat!