5 Great Reasons to Meditate in the Forest
The go-to resource for planning your meditation retreats. Find all you need to know about the top destinations and how to escape from your busy lifestyle with the art of meditation.
Discover Meditation Retreats now
There are many forms or types of meditation. And thank goodness for that, because there are many kinds of people, too!
We don't all fit into the same "category" as we all have our individual identity, so it only makes sense that we'll have different preferences when it comes to the forms of meditation that suit us. If you have yet to find out what yours is, this article may just help to find it.
Here, I would like to introduce you to meditation in the forest, or in the "wild". I avoided the word outdoors because that can be any park anywhere in the world. I am talking about meditation in an "unmanicured" place, in the "raw" outdoors. And by that, I think about forests, whether small woodlands in a city or huge forests in the mountains.
How I was introduced to mindful movement
Years ago, on Sunday 21st January 2013 at 8 am in London, UK – I remember the exact place and time because this experience changed my life forever – Michael introduced me to natural movement fitness.
Erwan LeCorre, the founder of MovNat, brought the term to the wide public. But many individuals have practiced these mindful, intentional movements for years. They just never gave it a name.
Michael introduced me to a form of movement that not only got me fitter and stronger than I have ever been before – a different type of fitness, based on strong foundations – but he introduced me to meditation and mindful movement.
That was the day I said "This is what I want to do".
I was already a personal trainer in a commercial gym, but, while I learned a lot, I felt that wasn't me. I loved the forest, be it winter or summer, sun or freezing cold, rain or snow. The forest we trained in was a small woodland in London UK, but it was unmanicured. It was the raw outdoors, as I like to call these kinds of places.
Every movement we spent there was mindful, from walking and running to jumping, crawling, lifting, throwing logs, and more. At the end, we would do a cardio session using the movements we practiced.
We did walking meditation, seated meditation, relaxation meditation, breathing meditation, and, of course, meditation in movement – mindful movement.
Benefits of meditating in the forest
Here are five benefits that I, and my clients, found through meditating in the forest as opposed to a room, home, or park:
Connect with nature
Being connected with nature at a deep level, hearing the birds chirping, the wind whistling through the trees, feeling the sun rays break through the forest canopy, and the gentle breeze on the skin cannot be matched by anything else.
Furthermore, there is research showing the physical and psychological benefits of spending time in the outdoors. Such benefits include relaxation, improving mood, stress management, improved focus, reduced inflammation in the body, and relaxation of internal organs.
Anyone who spends time outdoors is bound to feel less stressed and more grounded. This connection with the earth is called Earthing or Grounding.
Be more mindful
When you're in the forest, being mindful is a must, whether you're sitting or moving. You are not in a gym or yoga studio anymore. You have to immerse yourself into the environment and become, in a way, part of it. Mindfulness is essential in the forest and you can't take your mind off what you are doing.
Be in the moment physically, mentally & emotionally
The forest invites you to be in the moment, here and now. You cannot take your mind off the task. I believe this addresses a big problem in today's society – the lack of attention and focus. People have trouble focusing on one thing and one thing only because their mind is cluttered with countless thoughts. They go to bed thinking about work, they wake up thinking about work. Are you one of those people?
Well, I have great news for you. The forest is not a gym, so you have to be physically, mentally, and emotionally in the moment. It gives you the chance to clear your mind of everything, feeling an almost instant release of physical and mental stress and tension.
Learn to be patient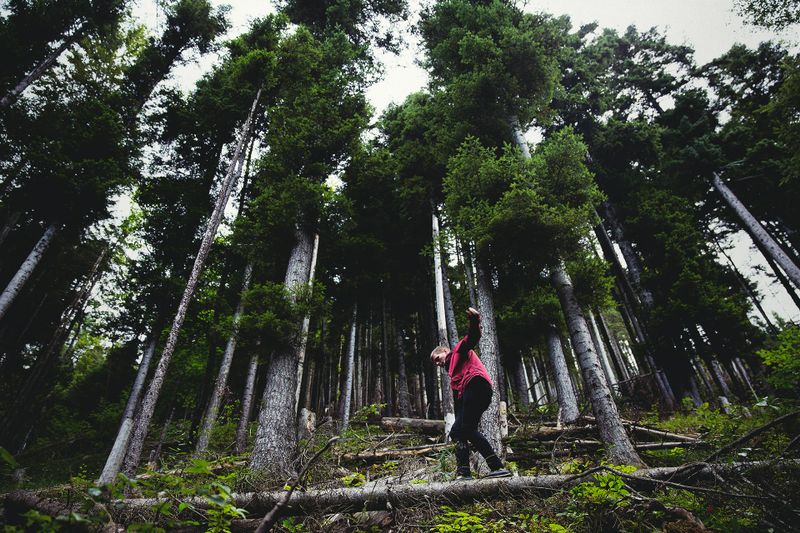 This was a major breakthrough for me, and it can be for you as well. I grew up around people who never had the patience for themselves, anyone, or anything else.
However, when you find yourself walking on a tree trunk or a branch (on the ground) and you lose your balance and fall after a few steps, that will teach you resilience and patience. If you are an impatient person, you might find it difficult, but the forest a great setting to change your mindset.
Walking on a tree trunk or a branch is in itself a form of meditation, walking meditation, or balance meditation. In order to meditate or practice mindfulness, you don't need to sit with your legs crossed if that doesn't feel right for you. You can incorporate mindfulness in every single thing you do.
You will also discover that by calming your mind and relaxing your body you will walk all the way to the end of the tree trunk or branch. And that's a valuable lesson that you can apply to your business, relationship, and/or your job. The forest teaches you patience and changes your life for the better.
Control your emotions
Do you ever get angry or frustrated when you just can't make something work? Meditation in the wild and mindful movement will challenge you at an emotional level as well.
I remember after training, when doing our guided seated meditation, I had to make a great effort to focus and not allow my work or personal problems invade my mind. The focus was to align the body with the mind and relax tensed muscles. But sometimes I really struggled.
Today, I do it often and with ease, I can find calmness of mind in almost any situation, especially when things get difficult in my business or in my personal life. I go back to connecting with my body. With practice, you can learn to do that as well.
Today, as a UK-qualified trainer and lower back pain exercise instructor, I teach this type of movement and form of fitness. However, I also brought in my 21 years of experience in martial arts, in the form of fluid movement. Think about movements similar to Tai Chi, but it's not Tai Chi, which is a martial art, it's The Merisoiu Technique.
This is how two out of the four years as a Personal Trainer have looked like for me. Getting people out of the gym and back to nature, to meditate, practice mindful, intentional movement, as well as developing a strong physical frame to go with a strong, powerful mind.
---
Interested in learning how to be more present? Join a mindfulness meditation retreat that will help you improve your focus, slow down your racing thoughts, and calm your body and mind.